When leggings crept back onto the fashion scene some 8-10 years ago, they were met with mixed reactions. Some remembered with horror the stirrup-bottom, camel-toe creating horrors of the 1980s and were naturally sceptical that this trend would last. However, it has obviously endured and it looks like leggings are here to stay. This is probably due to the fact that they are incredibly comfortable and practical, and of course, they accommodate a large variety of shapes and sizes easily. At the start of their return, we tended to stay more towards dark colours but now, since it is so popular, there are a huge range of motifs and effects that can adorn leggings. They are even different ways to wear them, such as sports leggings for the sportswear look which has become a thin, to with crop-tops and cardigans. Whether you like to wear leggings as trousers or not, find out some of the loveliest leggings around right here.
To channel into the sports luxe trend without having to fork out a lot of money for some high-tech lycra number with aerodynamic highlights or whatever, this economical pair from Forever 21 is perfect. The American brand is known for their fast fashion, cheap prices and extensive collections, so it's only natural that their leggings collection is on-trend with a lot of choice too. This particular pair can be easily styled with trainers and a trendy oversized sports hoodie for a look that will be comfortable, fashionable and easy to put together. If you want to be bolder, why not swap that oversized hoodie for a cropped one like in the picture for a fierce and cool look.
Leggings don't always have to obviously look like leggings as this particular pair from British brand River Island show. Jean effect leggings are really popular and are one way to avoid that eternal argument about whether or not leggings are trousers or not. Slip on this hybrid pair, and nobody will be put out. The pale stonewash is perfect for a summer look with some white pumps and a sweat top, and their comfort and ease to style make them a great addition to your wardrobe.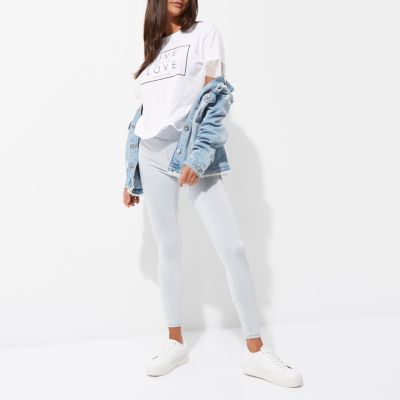 For a more luxurious and unusual looking pair of leggings, why not try these ones out from New Look. Boasting crushed velvet, these are not for the faint of heart, but if you can pull them off, they will look fantastic with some heels and a black lacy top, for example. Available in 2 colours, stone (as seen in the picture) and grey, these inexpensive beauties are worth a shot.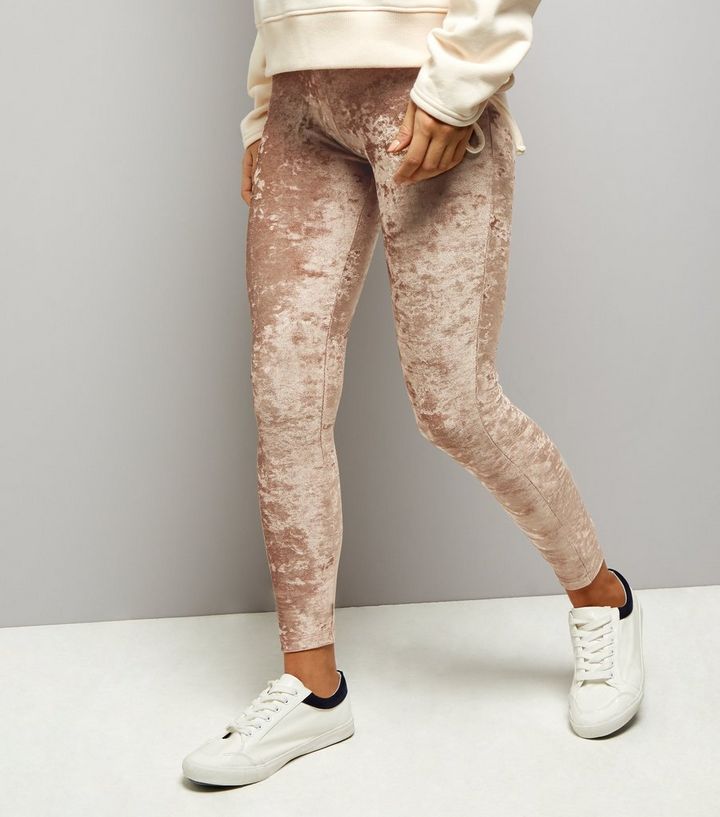 Finally for another pair of leggings from New Look, who really do offer a fantastic selection, these shiny lycra numbers are certainly eye-catching. Choose from the subtle navy, to bold red to the futuristic purple, and you can immediately have some funky disco pants. For the ultimate play on the sports look, wear these high-waist leggings with a cropped sweat jumper and some dainty trainers.