In winter for obvious reasons of practicality, our go to pieces are warm wind and waterproof jackets with a hood of course, boots and a nice thick scarf and a hat. Although you can still look fashionable with a beautiful winter coat and some gorgeous leather boots, it can get cumbersome wearing all of those layers. In the autumn, we are ready to embrace our heavy winter knits and comfy leggings, but come spring when the birds begin to sing once again, we find ourselves coveting lighter and airier styles that reflect the ever improving weather. Spring and summer are also the perfect times to try out new looks or be a little daring with your style since it is the time of year when we are looking our best. Find out some great fashion picks to try out this spring and summer.
Benetton is a quality Italian brand that designs beautiful and practical smart-casual wear that is perfect if you want to look chic and elegant in your downtime too. Their style is feminine with lovely silhouettes that flatter practically any body shape, and even better most of their clothes are from natural fibres and materials, and are soft, good quality and long-lasting. This season, as usual, Benetton does not disappoint with lovely patterns, simple pastels and flowing lines easily creating an elegant yet fun collection. From this collection, one of the stand-out pieces is this stunning skirt in bright blue. The pleated A-line shape and the midi length are extremely fashionable at the moment, and the eye-catching geometric pleating on the front is only another sign that this piece comes from a fashion forward brand. Whether you wear it to work with a little black jumper this season, or dress it down with sandals and a basic t-shirt, this lovely skirt is versatile too.
Speaking of sandals, a pair that you can wear practically anywhere is a good investment to make now. This means that you can enjoy them for the entirety of the season rather than just on your summer holidays! These days we are lucky since wearing dainty summer sandals in cities and not just at the beach are acceptable these days, so get a pedicure and embrace this chic summer trend. River Island is one British brand that always has its finger on the fashion pulse, and you can be sure of finding a beautiful on-trend piece there, like these gold metallic charm sandals. Looking like they come from some exotic bazaar these detailed embellished sandals are the perfect replacement to your grubby old flip-flops.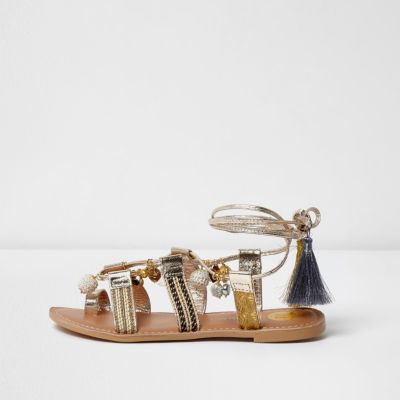 For some fast fashion that doesn't cost the earth, Forever 21 is the perfect shopping destination with loads of collections and bold use of motifs and patterns. Nothing screams summer more than an elegant sun dress, and this simple white and palm-leaf design is simple to dress up or down. With its small price tag it makes a great statement piece without breaking the bank, and thanks to its colours, it'll look great with a tan and some beachy hair.